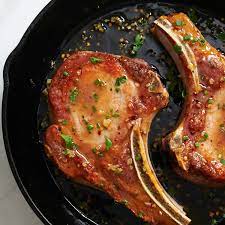 Bone-in Pork Chops with Beer-Brown Sugar Glaze
Serves 2
Expect a lot of 'oohs and ahhs' when serving these pork chops!   When the glaze is cooked on the pork chops, it caramelizes, creating a beautiful crust that adds both texture and a depth of flavor. The caramelization process enhances the sweetness and richness of the dish.   The glaze not only adds flavor but also helps to seal in moisture within the pork chops. This ensures that the meat remains tender and juicy throughout the cooking process.  Using bone-in chops also contributes to the body of the sauce, and the beer helps to balance the sweetness.  
Feel free to make it spicy as well– add a teaspoon of chili garlic paste (sambal oelik). 
You'll be eating with your eyes first with these glossy chops!   Glazed pork chops often have a glossy, visually appealing appearance due to the glaze. The caramelized coating makes the dish look appetizing and enticing.
2 thick bone-in pork chops 
1 shallot, finely diced
1 clove garlic, finely minced
3/4 cup beer
2 Tbsp brown sugar
1 Tbsp grainy mustard
1  tbsp. apple cider vinegar
1 tbsp. Butter 
Salt, as needed 
Neutral Oil*, as needed 
Preheat a frying pan (just large enough to fit the pork), over medium-high heat.  

Generously salt and oil the pork chops.  

Add to hot pan with just another drizzle of oil.  Sear 1-2 minutes per side.  Remove to a plate.  

Ensuring there is enough oil in the pan, add shallot & garlic.  Sweat until soft but not too brown.  

Add beer, increase heat and allow to boil until reduced by about half.  

Reduce heat and whisk in sugar, mustard and vinegar.  Boil one minute.  

Return the pork chops to the pan.  Continue to cook over medium-low heat, turning and basting with the sauce as much as you like until pork is cooked through, 8-10 minutes.  

Turn off heat and swirl in butter just before serving.  

Serve pork with sauce, slicing pork if you like.   
*Generally we use grapeseed oil or sunflower oil