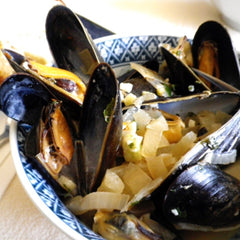 Beer-Steamed Mussels with Bacon, Leek and Cream
Serves 4 as an appetizer, or two for dinner.  
Mussels can make for a delicious, quick and flavorful dinner option. You'll feel like you are transported to your favourite bistro for dinner!   The best thing about mussels is that they produce their own broth–and the beer adds depth and richness to this broth, enhancing the overall taste of the mussels.   Leek & cream is a great way to enjoy mussels in the cooler months.   And as an added bonus, Mussels are a good source of various B vitamins, including B2 (riboflavin), B3 (niacin), and B6 (pyridoxine), which are essential for metabolism and overall health and contain antioxidants like selenium, which can help support a healthy immune system!   
2 lbs mussels, scrubbed
4 strips of bacon, diced
1 large leeks, white part only, finely sliced
1 large clove of garlic, finely minced or sliced thin
¾ cup of dark beer
4-5 sprigs each fresh thyme & parsley, leaves only, finely chopped
Chopped fresh herbs, about 2 tbsp. such as thyme or parsley
1/2 cup 35% cream
1 tsp Sherry Wine Vinegar
Salt & Pepper, as needed 
Clean, scrub and debeard mussels.  Discard any cracked or opened mussels.  Place in a bowl. We'll often then shake the bowl vigorously at this point, which will help close any mussels that might be slightly open.  Place a damp paper towel over top and place in the refrigerator until ready to use.   

In a large pot or pan with a lid, fry bacon until almost crisp over medium heat. 

Reduce heat and sweat leeks with bacon until soft, adding garlic for the last 30 seconds or so.  

Increase heat: add mussels and fry for about 2 minutes before adding beer,  herbs and cream.  Be sure to pick up the mussels and place in, as opposed to dumping in from the bowl.  You want to leave behind any residual liquid in the bowl.  

Cover and cook over medium-high heat until all shells are opened, 3-5 minutes.  

Mussels are cooked to perfection as soon as they open. Take open mussels out of pan and place in serving bowls; discard any un-opened mussels.  

Lastly, add vinegar, taste for seasoning, and pour sauce over mussels.