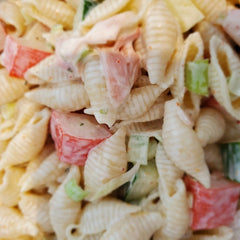 Togarashi Spiced Crab Pasta Salad 
Serves 6 as a side
450g. box shell pasta
1 cup mayonnaise
⅓ cup rice wine vinegar
1 tbsp. sesame oil
2 tsp. togarashi
Juice and zest 1 lime
1 tbsp. soy sauce
½ tsp kosher salt
¼ cup pickled ginger, finely chopped
2-3 green onions, finely chopped
½ cucumber, seeded and diced
1 rib celery, finely diced
400g imitation crab meat, in large pieces
3 tbsp black sesame seeds
1.  Fill a large pot with water and bring to the boil. Add enough salt so that the water tastes salty. Add pasta and boil until just under al dente. Drain and place on a baking sheet to cool.
2. With a bowl and whisk or in a jar with a lid, mix together mayonnaise, rice wine vinegar, sesame oil, togarashi spice, lime juice & zest, soy sauce, salt and pickled ginger.Whisk or shake until well combined.
3. In a large bowl add chopped green onions, cucumber, celery & crab meat.
4. Toss gently with pasta and fold in dressing. Garnish with sesame seeds and refrigerate until needed.