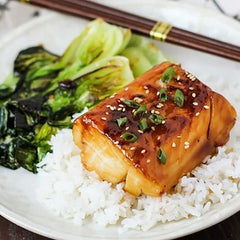 2 x 6oz filet Sablefish/Black cod
2 Tbsp shiromiso (white) miso
2 Tbsp maple syrup
1 tbsp. soy sauce
2 tsp. rice vinegar
1 Tbsp fish sauce
½  tsp. chili garlic paste
Pre-heat oven to 425°F
Line a baking sheet with parchment paper, or use a square baking dish. Place fish on baking sheet and season with salt. 
Whisk together miso, maple syrup, soy sauce, rice wine vinegar, fish sauce and chili garlic paste. Drizzle about half on the fish, setting the remainder aside to sauce the fish afterwards.
Roast fish in oven for 10-12 minutes. Serve immediately with extra sauce.