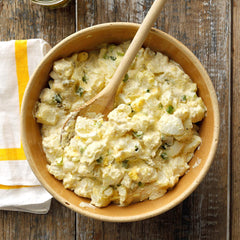 A few key tips here to great potato salad:  first, ensure you potato cooking water is salty, like the ocean.  This should pretty much be the only salt you need for the whole salad.  Two: cook the potatoes slowly so that they do not break up. We think Yellow-fleshed potatoes are a winner here.  Lastly: toss that salad when those potatoes are hot!  
Serves 4-6 
4 large potatoes
3 slices bacon, diced up 
2 green onions, finely chopped
2 dill pickles, diced 
4 hard boiled eggs (optional)
House Ranch Dressing (recipe below)
1.  Peel and diced potatoes, about the size of playing dice.  Place potatoes in a pot and cover with cold water. Season generously with salt (taste the water! It should taste salty). Bring potatoes just to a boil over high heat, turn temperature down to lowest heat setting  and cook until potatoes are fork tender.  Water should barely be moving, 30-40 minutes. 
2.  Once fork tender, carefully drain and place into a mixing bowl. 
3.  Meanwhile, fry bacon: pre-heat a small frying pan over medium heat.  Add bacon and cook until crisp.  Set aside until potatoes are cooked through, then gently toss with potatoes.
4.  Stir in green onions, pickles and hard boiled eggs if using 
5.  Fold House Ranch into potatoes and bacon, starting with about ½. The potatoes will continue to absorb dressing.  Add more dressing as desired.  
House Ranch Dressing
Basically good on just about anything!  Adding in 1/2 cup of buttermilk will lighten up the texture to make it more suitable to greens such as spinach or romaine lettuce.  
1 clove garlic, finely minced with ¼ tsp kosher salt
½ cup Hellman's mayo
1 cup full-fat Sour Cream
4-5 sprigs Italian parsley, finely chopped
4-5 sprigs dill, finely chopped
2 Tbsp. dill pickle juice
½ tsp. onion powder
½ tsp. garlic powder
¼ tsp. black pepper
¼ tsp smoked paprika
1/8 tsp cayenne
Add all ingredients to a bowl or jar and whisk or shake to combine.