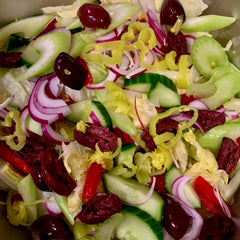 Classic Italian Garden Salad 
Serves 4-6 
Whenever we bring this salad to a party people are always grabbing for second helpings!  It is fresh & punchy, with lots of colour and adaptability.   The dressing can be made well ahead of time, in a blender, just be sure to bring it to room temp before serving.   
1 large clove garlic
1⁄4 cup white wine vinegar
1⁄2 tsp.celery salt
1⁄4 tsp. mustard powder
1⁄4 tsp. dried oregano
1/4 tsp. sugar
2 tbsp. grated parmesan cheese
1⁄2 cup olive oil
Good pinches each of salt & freshly ground black pepper
1 head of lettuce (iceberg), torn 
1⁄2 red onion, thinly sliced 
1 tomato, in wedges 
Celery & cucumber, sliced (optional) 
6-8 Pepperoncini (pickled) peppers sliced
6-8 Black olives pitted & halved 
Thinly slice red onion and place in a small bowl with cold water and a good pinch of salt. Set aside.
Roughly chop lettuce and place in a bowl. Wedge tomato. Add olives and pepperoncini to bowl, add cucumber & celery if using. 

Make Vinaigrette:

Place garlic, vinegar, celery salt, mustard powder, oregano, sugar, 2 tbsp. of parmesan cheese & a good pinch of each salt and pepper in blender. Blend on high for 20-30 seconds.

Reduce blender speed and drizzle in olive oil. Pour into a jar and set aside until ready to toss salad.
Leftover vinaigrette will keep in a jar, refrigerated for a week. Shake well before using.