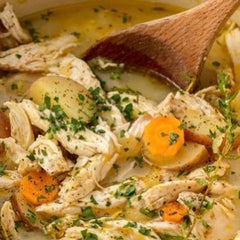 Chicken Pot Pie Stew 
This recipe is ideally made in two stages, even one day apart: poach the chicken in the broth on day one, strain the broth and pull the meat off the bones.  Day two then the stew comes together quickly and easily.  Serves 4-6 generously, and can also be served with broad, buttered egg noodles.   Recipe can be doubled.  
Note: you may end up with extra broth.  That's never a bad thing! 
1 large (4lb) whole chicken 
Cold Water, to start 
2 onions (1 finely diced for soup, 1 cut into quarters for broth)
2 large carrots (1 diced for soup, 1 cut into 1 inch pieces for broth)
2 ribs celery (1 diced for soup, 1 cut into 1 inch pieces for broth)
2-3 bay leaves
3-4 sprigs thyme (use stems in broth and leaves in soup)
4-5 stems parsley (use stems in broth and leaves in soup)
4-6 medium yellow-fleshed potatoes, peeled and large dice 
1/2 cup butter 
1/2 cup flour 
Salt, as needed 


Season chicken with 1-2 tsp salt. Place in a pot & cover with  cold water. Bring to a JUST a boil, turn down to a simmer and skim any scum or impurities that rise to the surface. 

Add your roughly chopped onion, carrot and celery, thyme stems, parsley stems, bay leaves.

Continue to simmer on very low heat (DO NOT BOIL!) for 1 1/2 - 2 hours, until meat is falling off the bone. 

Carefully lift chicken out of broth (using 2 pairs of tongs or a fine mesh strainer works well) and place into a bowl to cool.  When cool enough to handle, remove meat from bones in large pieces.  Discard bones.

Strain broth into a large container or two, discarding large pieces of vegetable and herb stems. 

Make Stew:  in a heavy, clean pot melt butter and add diced onion.  Season with salt, cook until soft but not brown.  Add carrot & celery and cook until softened
Shake flour over softened vegetables and stir to combine. Stir for 2-3 minutes.  

Whisk about 8 cups of the broth into vegetables, soup will be slightly thickened. Add potatoes and chopped thyme leaves and bring to a simmer and allow to simmer gently until potatoes are just fork tender. 

Stir in chopped parsley leaves and chicken meat, just to heat through.  

Do not simmer for too long at this point, or chicken will become stringy.  

Season to taste with salt & pepper. 

Enjoy!