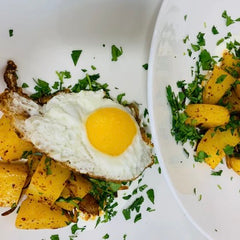 Winter-Spiced Potato 'Salad' with Garlic Yogurt 
A delicious side dish, or better yet, the perfect brunch or light supper with a fried egg!  The local garlic makes a real difference here!  Serves 2
2-3 medium-sized yellow-fleshed potatoes, peeled and diced 
2 tbsp. vinegar (white or apple cider) 
1 tbsp. salt 
1 cooking onion, julienne 
3 tbsp. olive oil (plus more for frying eggs) 
1 tsp. smoked paprika (hot or sweet, depending on your taste) 
1/2 tsp. each ground cumin & ground coriander 
1 cup plain, whole milk yogurt 
1 large, fresh local garlic clove 

Salt, as needed 
2-4 eggs
Chopped parsley or cilantro for garnish.  
Place potatoes in a pot, cover with cold water and add vinegar & salt.  Bring up to a boil, then immediately reduce to a low simmer.  Cook until fork tender.  The vinegar will keep the potatoes firmer and intact in their shape.  
Drain and place in a mixing bowl. 
Meanwhile, heat a frying pan over medium-high heat.  Add olive oil oil, followed by onions.  Season with salt and allow to cook, undisturbed until crisp & golden, turning occasionally 
Stir spices into onions for the last 30 seconds. 
Use a spatula to scrape onions & spices onto potatoes.  Gently toss. 
Mince garlic with a knife & about 1 tsp. of salt.  This will be the most effective way to give you a super garlicky, sticky paste.  Mix with yogurt. 
Divide yogurt amongst two plates, and top with potatoes.  
Fry Eggs:  wipe out frying pan and bring back up to temperature over medium-high heat.  Add a drizzle of oil followed by 2-4 eggs.  Fry until sunny-side up.  
Serve atop potatoes and sprinkle with herbs.