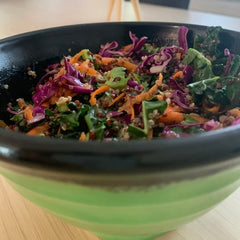 Makes about 6 cups of salad.  Keeps 4-5 days in the fridge (not dressed), so perfect for lunch take-alongs!  Add cooked chicken for extra protein.  
1 cup quinoa (white or multi-coloured) 
1/3 cup whole or sliced almonds
1/4 red cabbage, finely shredded
1 cup grated carrot (about 1 large carrot)
1 cup broccoli florets, in small pieces
2-3 green onions, sliced
Dressing:
1 clove garlic
2 tsp. Dijon mustard
1 tbsp. maple syrup
1/3 cup red wine vinegar
1⁄2 tsp. kosher salt
1⁄4 tsp. freshly ground black pepper
1 cup oil: can be a combination grapeseed & olive or one or the other
1.Preheat oven to 375°F. Place almonds on a small baking sheet and toast for 3-4 minutes. Remove, cool and chop if using larger almonds.

Bring a large pot of salted water to the boil. Add in the quinoa, reduce heat slightly and boil for 10-12 minutes or until al dente.

Strain through a fine mesh strainer and then turn out onto a baking sheet to cool completely.

Meanwhile, in a large bowl place shredded cabbage, grated carrot, broccoli florets, green onion and toasted almonds. Fold in the quinoa.
Make vinaigrette: in a blender place garlic, Dijon, maple syrup, red wine vinegar, kosher salt and pepper. Blend on high for 30 seconds.
Reduce speed and blend in oil.
Toss salad with vinaigrette to taste.