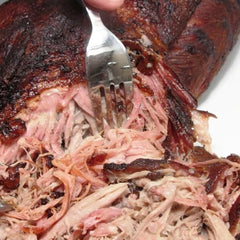 We speed this up by a few hours by starting with smaller pieces, doing a relatively quick smoke, and then finished with some moisture in the oven.  We've gone from 8-10 hours for 'pullable' pork to 3-4! 

1-8lb boneless pork shoulder 
Salt, as needed
BBQ Spice rub, as needed 
Your favourite BBQ Sauce, as needed
Cut your pork shoulder (or ask your fave butcher) to cut it into 4 thick pieces
Lightly salt and sprinkle BBQ spice rub all over pork pieces.  This can definitely be done the day before, wrapped back up in butcher paper and refrigerated.  But day of works too! 
Set your smoked to 300 degrees. 
Smoke pork pieces for 1 hour. 
Remove to a roasting pan with a lid.  Add in about 2 cups of water (or beer!), place lid (or tinfoil) on top and continue to cook in a 325 degree F oven for 2 hours, or until pork is pulling apart with a fork.  
Assess the liquid: if there is a lot of remaining liquid in pan, remove it.  You can always add it back in.  
Pull pork with 2 forks in a bit of the accumulated juice 
Drizzle on some bbq sauce and stir in.  
Great for make ahead and then reheated (that's why you save any juices).