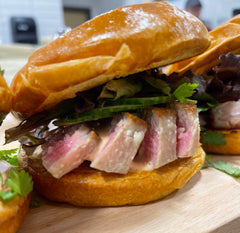 Fresh Thai Tuna Burger
Warning: this sauce has an addictive personality and would be good on just about anything!  
Thai Curry Mayo:
2 tsp. white sugar 
2 tbsp. (30ml) lime juice (1 large lime) 
2 tbsp. (30ml) fish sauce (Red Boat brand is exceptional) 
1 tsp. red Thai curry paste (Aroy D brand is preferred) 
3/4 cup mayonnaise 
1 lb. (450g). piece fresh tuna, cut into 2 steaks 
Salt, as needed 
Oil, as needed 
2 green onions, thinly sliced 
2 sprigs fresh mint, roughly chopped 
2 sprigs fresh cilantro, roughly chopped 
2-3 radishes, thinly sliced 
1/4 English cucumber, thinly sliced 
4 large pieces leaf lettuce 
4 brioche buns
Butter, as needed 
Preheat a medium frying pan over medium-high heat 
Season the tuna steaks well with salt and drizzle generously with oil.  Set aside while you make Thai Curry Mayo
In a bowl, whisk together sugar and lime juice to dissolve sugar.  Whisk in fish sauce, curry paste and mayo until combined.  Set aside.  
Place tuna in now hot pan and sear for one minute per side.  Set on a cutting board to rest for a few minutes while you toast the buns.  
Add a little butter to the pan and toast cut side of buns until soft and golden brown. 
Slice tuna into 1/2 inch slices and then build your burger!  Top brioche buns with mayo, tuna, green onions, herbs, cucumbers, radishes, lettuce and more Thai curry mayo as needed.  Enjoy!